So I am going Lego crazy and putting together a lot of lego fun for kid gifts this year. So I figured I would share. First idea I want to share I just found nad not sure if I am going to make it even though I really want to. It is this great travel lego case you can make yourself.
Visit this site
for more info. I may make one just for the fun of it. The boys are always asking to take some Legos places with them and I always say no. This could change that :)
The next one is a jar that I filled with 144 Lego challenges so there can be endless play for the new Lego builder and to expand the imagination of the experianced builder. Here is the list so you can use it to.
Build something using only 40 blocks
A maze for you hot wheel car
Build something using 100 blocks
Build something using only 4X2's
Build something using only bricks
Build a cup and drink water from it.
Connect all of your legos and measure it.
The shape of the state you live in
One of the seven continents
The cover of your favorite book
A picture frame for a picture you draw
A couch with a person sitting on it
A piece of art and text it to someone
A bridge with a car on it
Something that makes you smile
Something in your bedroom
Something a girl would use
Something a boy would use
Your favorite book character
Your favorite movie character
Your favorite place to go
A picture of someone you live with
Bed with someone sleeping in it
A nose you can stick your finger in
An important person in history
Solar system (how far apart are the planets)
Yes it is a big list. I placed them in mason jars with a cute tag. I also used cleaned jars from pickles or jam.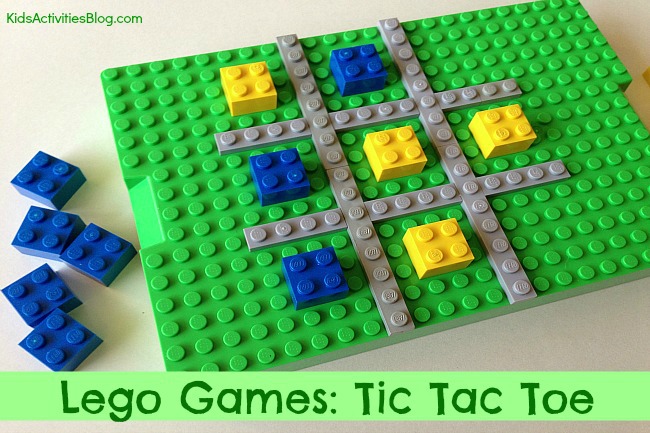 I included a Family Fun book to give ideas for family lego play. Not all
parents had legos as a kid right. Wel
l I dint know if thats true. But at this link you can print out the entire 10 page color book of great family Lego fun activities.
Lego Brick Tac Toe is one of the fun yet symple things you can do.
On this page you can find printable Duplo Pattern cards. But they can be used for regular legos too. There are quite a few of them and I just threw them into a zip lock bag. It was so nice to find something I could just print out.
Are you looking for a way to make letters fun? Check out these great lego animals that a mother is creating to add a fun eliment to learning the alphabet. Visit her blog and print out letters A-T.
I also made my own lego counting sheet and a sheet for counting by 2's and 4's.
Along with these lego activities I have sent a 650 piece lego bricks bucket so they will have what they need for these activities. I hope you enjoy this and feel free to tell others about my blog. :)